Draw new strength from a fountain of life!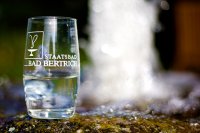 At the traditional health resort Bad Bertrich volcano-Eifel thermal spring will treat you with 32° Celsius natural warmth. Beside Karlsbad (Czech Republic) this is the only acknowledged Glauber salt thermal spring of Europe. As bathing and drinking cure, its healing success is recognized. It is a well-proven natural remedy. Besides, at Bad Bertrich cures according to Kneipp, natural Eifel fango and various physical therapies are being offered.
The hot spring derives from volcanic soil. The source of the fountain is located at about 2000 meters below the surface. The water, which has matured during a course of approximately 24.000 years at the heart of deeper layers of the earth, serves our health as Glauber salt water, hot spring, mineral water and curing water. The natural temperature at emersion point is above 20 ° Celsius, which qualifies it as thermal spring. It contains a curing mineral salt (sodium - hydro carbonate - sulfate) named after pharmacist Johann Rudolf Glauber. The sulfate is in-odorous. According to terms of reference of spa and mineral water operators (in Germany) this particular fountain may be called "therapeutic bath", since mineralization reaches 2445 mg per liter and hence, is way above norm for mineral water.
The Romans already appreciated the curing power of a bath in the thermal well. Nowadays, the therapeutic bath is supplied with water from the natural source 100%. Thermal mineral baths as a naturopathic treatment serve as natural cures. The curing water takes effect preventively and analgic for various physical symptoms. Minerals, warmth and easiness of the water soothe psychological afflictions as well and help to reduce stress.
The healing water of Bad Bertrich will carry you into the easiness of new dimensions, on your way to relaxation toward mental medical wellness. Dive into a fountain of life, back to the origin of your very being! You will feel lighter than ever. Let yourself drift and consciously engage with the effect of the water! Don't feed the hunger of your anxious spirit! Take a break and treat yourself to a rest here and with these watercourses! Simply, leave talks and distractions aside and bath in silence! Such an abidance does not offer a classic wellness experience, it grants you with a deep and healing touch.